$22 Plastic Target Snowboards Loveland Pass Colorado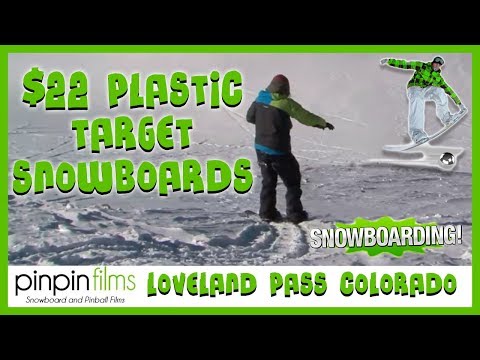 ‪http://www.pinpinfilms.com/‬
December 12th, 2013
When it come to these "snowboards" from Target, you certainly get what you pay for. That' s right. They are made of plastic, it's fantastic.
Ladies and gentleman, today, I (trailer tom), (gotta do my name in parentheses for Mateo Leyba) made history once again with THE Ffej Knar….
Ffej Knar and I bought the very best snowboards money can buy, at Target. On a scale of 1-10 on snowboard quality, with zero begin total BS trailer park trash junk, to 10 being the very best of the best, I give these boards a .09
The boards cost $22 each, but, lucky for us, they were on sale for 10% off.
Our mission. To ride these POS plastic shred devices down Loveland Pass. Top to bottom Loveland pass run would surely put if in the record books!
The day we chose for this monumental journey was December 12th, because, December 12th just happens to be my birthday. woo hoooooooo!
So there we were. bottom of the main valley run at Loveland Pass. We parked my truck, got out our new Traget Specials, and stuck out our thumbs. Hitchhiking to the top with nothing but our new trailer park quality snowboards with their equally trailer bindings, would force us to ride all the way back to the bottom of the pass where my truck was parked.
Some guy was kind enough to pick us up and allow us to film him as he drove us up to the top for the jackpot. He became interested in what we were doing after we briefed him on our historic quest. He was on his way to Keystone resort but had to take time out to watch us push the limits of what our new boards could do. He stopped at the top to witness our awesome skills.
Ffej gave his new board the ol' camber flex test at the Loveland Pass elevation sign near parking spots at the top of the pass. On a scale of 1-10 on flexibity, with 1 being a wet noodle, and 10 being a clear coated diamond plated steal laced oak plank, I give these boards a 0.99
The hardest part for me was just getting my boots into the bindings. The bindings are completely worthless plastic straps that kind of snap together. The snaps do not work very well for snowboard boots as the boots are a bot too bulky. Skate shoes seem to work better for these boards.
My heels and toes would drag in the snow as the boards are pretty small (110cm) and not very wide. Ffej really had some serious toe and heel drag.
The boards did ok, as in, a person can almost perform a heel side and toe side turn for minimal steering and stopping contol where the snow was hard packed or powder was less than an inch or 2 deep. As soon as you get these things in the pow, forget about it like Tony Soprano.
Ffej quickly learned that, in the softer deeper snow, it helped to jam your front foot into the front binding and put your back foot on the back of the board.
We actually rode the boards about half way down the run, documenting our shredding with various vidjya cameras and still cameras. About half way down we decided that we had had enough, and cheated the rest of the way down the hill by sitting on the boards and using them like a sled, or simply walking with the boards under our arms.
After we made it back to my truck at the bottom of the run, we each took a victory lap on our regular, real snowboards and enjoyed some nice deep pow turns.
After we enjoyed some nice birthday snowboarding runs, it was off to the Broncos vs. Chargers game. After the Broncos game, we met up with Todd Trisch at the Ameristar Casio in Blackhawk. Ffej hit 24 on the roulette table 3 times!! Three times in less than 12 hours FFS!
Until next time. Keep flipping and high scoring.
Trailer Tom
trailertom.com

‪http://www.facebook.com/trailertom
‬

‪https://vimeo.com/trailertom‬