After being on first chair at Arapahoe basin with fellow shredders Justin Smith, Nate Dogggg, and Jeff Meyer, Trailer does it again at Loveland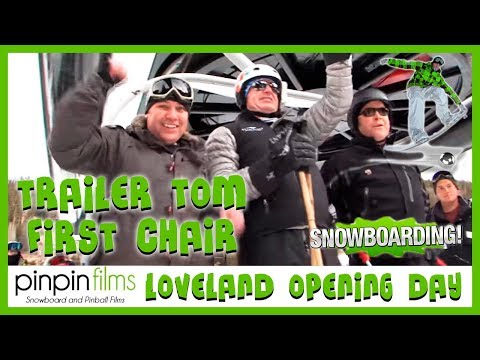 Silverthorne's "Trailer" Tom Miller, 37, carves his way down the slope at Loveland Ski Area during opening day of the 2014/15 ski season. Trailer arived at 4 a.m. to claim first chair at the ski area.
Loveland joins A Basin as only ski areas open in North America
Two weeks removed from camping out for first chair at A-Basin, Silverthorne's Trailer Tom Miller, 37, was at it again — this time on a solo mission without his regular first-chair crowd.
http://www.pinpinfilms.com/
Nov 1, 2014
4am Trailer Tom drives to Loveland to see if he can claim another first chair on opening day.
Another great success for the PinPin crew legacy of 1st chair at opening days for frigs sake.
For the 2014-2015 season, first chair was officially held by snowboarder Trailer Tom, Tele-Marker Rick Hirsch, and skier Jeff Thompson.