On Saturday March 5th 2011 at the Pinball Hall of Fame in Las Vegas pinball players gathered from near and far to compete in a pinball tournament called the 2nd Annual PinPin Plunge off Anti Drain Fest.   
Here is a quick video edit of some of the action:
This years tournament players competed for cash, trophies, a ticket to the Las Vegas Motor Speedway's NASCAR race and fun!
The main tournament had 36 competitors and was a double elimination format.  
The final round of the main tournament  was a heated match between Johnny Modica (L.A. California) and Tom Neighbors (las Vegas Nevada).  These 2 players battled it out in the final rounds on Buck Hunter, NBA Fastbreak, and Knight Rider. It came down to the final ball on the last game to determine a winner.  The entire finals consisted of very VERY close matches. in fact rounds were won or lost on bonuses or bonus multipliers alone. 
 
The results of the main tournament are as follows.

1st place: Johnny Modica ($500.00+Trophy+Ticket to NASCAR)
2nd place: Tom Neighbors ($200.00+Trophy)
3rd place: Karl DeAngelo ($100.00+Trophy)
First place won a ticket to Sunday's NASCAR race but Johnny had to drive back to LA immediately after the tournament, and therefore could not attend Sunday's race.   Johnny, being the true sportsman and stand up guy that he is, kindly gave his ticket to his opponent.  So Tom Neighbors attended the race with Trailer Tom Ffej Knar, and Jordan Bebout and the crew of 4 had a blast at the race track. 
There were also 2 side tournaments this year
Side Tournament #1
ONE HANDED tournament on World Poker Tour. (Highest score of the day on WPT)

Winner was Jordan Bebout ($50.00+ Pinball 101 DVD+ Pinball Collectors DVD+Pinball DVD posters)
DVD's for this side tournamnet provided by Keith and Randy Elwin from
 http://www.pinballvideo.com/
Posters featuring Molly Atkinson of "Pins N Needles"
http://www.pinsandneedlesla.com/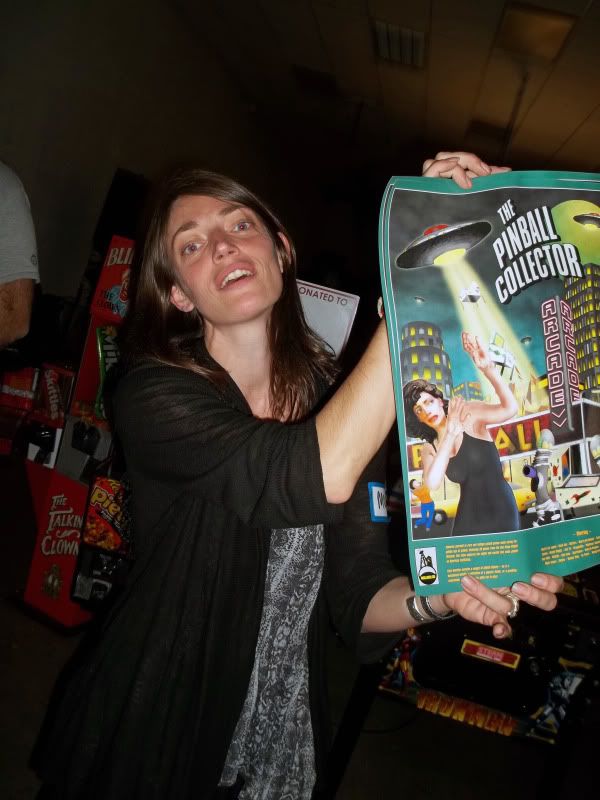 Side Tournament #2
 Tournament on Iron Man (Highest score of the day on IM)

Winner was Keith Elwin ($50.00)
For the main tournament players were originally drawn out of a hat to be matched up in head to head action. Some seasoned pinball pros as well as players that had never ever entered a tournament before were in attendance.
Players Battled for 9.5 hours on the road to the podium.  
Strong showing of women in this years tournament!  Laura Stoddard, Bre Topper, and Molly Atkinson all played well and knocked some of the boys out of the tournament!.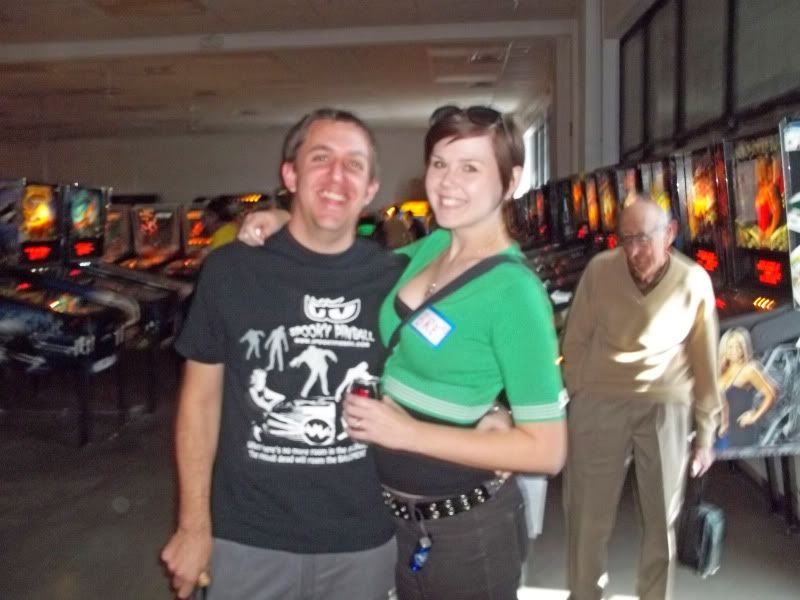 Tim Arnold has done a phenomenal job with the Pinball Hall of Fame. Ever year I have been to the Hall of Fame I have seen improvements in the place. This year was no different.  
Tim Arnold works non-stop, seriously NON-STOP to make sure the games work well and that there is a great variety of games for all to enjoy.  
The new Avatar game and New Rolling stones game were available to play in the tournament!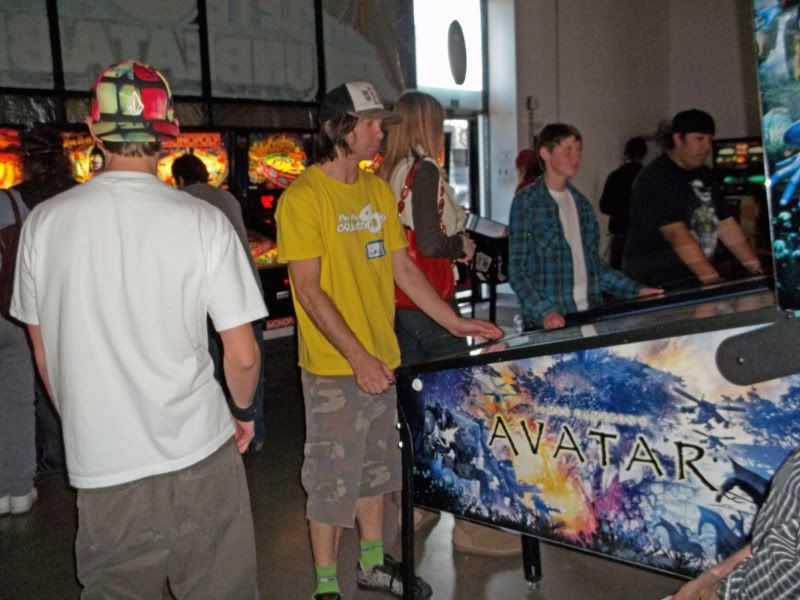 List of tournament competitors:
1) Ffej Knar
2) Jordan Bebout
3) Johhny Modica
4) Corey Dunn
5) Karl DeAngelo
6) Molly Atkinson
7) James Barron
8 ) Kane MacAniff
9) Bre Topper
10) Matt Topper
11) Randy Elwin
12) Jimi Gonzolez
13) Jeff Knight
14) Adam Barajas
15) Tom Neighbors
16) Emerson Aalto
17) Tom Brach
18) Brent Stoddard
19 ) Laura Stoddard
20) Chuck Raundy
21) Danilson Elder
22) Eddie Kon
23) Ron Riel
24) Paco Chavez
25) Sean Grant
26) Doug Grant
27) Brian Mundo
28) Rob Mundo
29) Gene Valley
30) Kenny Hardy
31) Dan Cerny
32) Ty Humphrey
33) Bob Matthews
34) Adrian Ace
35) Keith York
36) Zen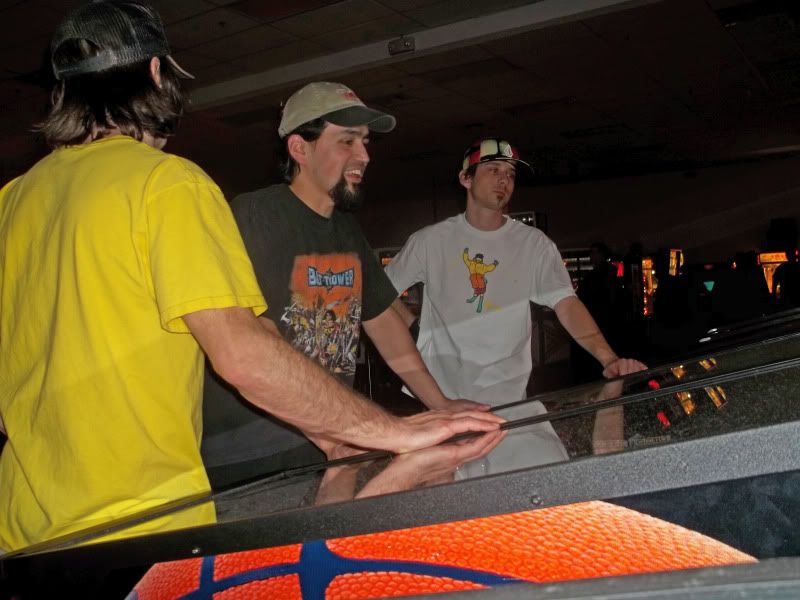 More coverage of this epic pinball event will be available in the new PinPin film "PinPin 9" (release date of 12-12-2011
pinpinfilms.com