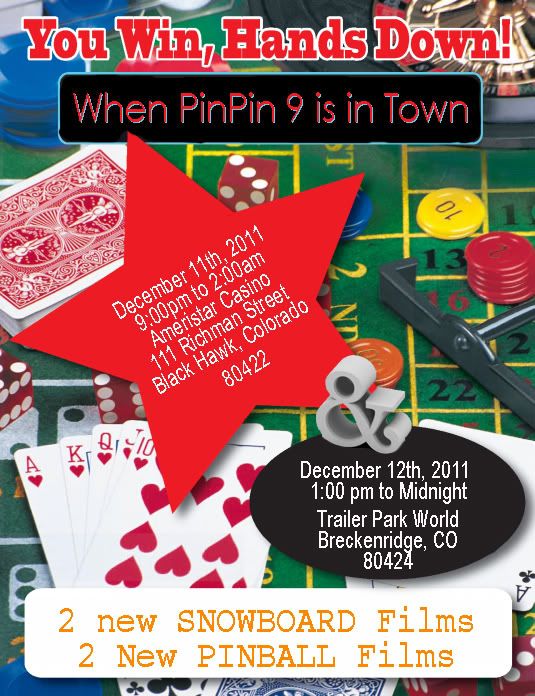 This year's PinPin celebration will actually be a 2 day event.  What could be better than PinPin Day? PinPin dayS (with an essssss).  Please come for all or any part of this….
*If you can not make it to these events then check out  http://pinpinfilms.com/  for the New PinPin 9 movies on December 12th, 2011*
Day 1 Sunday December 11th- 
7:00pm- Gather at Ameristar Casino in Black Hawk
8:00pm- Dinner at the Ameristar  Buffet $15.99 per person
10:00pm  until sleeping- The new PinPin 9 Films will be playing at the 8042 Bar inside the Ameristar casino.
The new PinPin 9 movies will play on the huge TVs at the main bar at the Ameristar casino  called 8042 starting around 10pm and run on a continuous loop. It's the main round bar at the bottom of the escalators on the main floor of the casino.   Here is a link to the bar:
http://www.ameristar.com/Black_Hawk_Entertainment_Bar_8042.aspx
Reservations line for Ameristar Casino at  720-946-4100
http://www.ameristar.com/Black_Hawk.aspx
Day 2- Monday December 12th- 
(Officially Birthday of PinPin Film Producer Trailer Tom)
1:00pm- Close: at Trailer Park home of Tom and Ffej new films will run on a continuous loop and pinball machines will be set up to play.  Come anytime after 1:00pm and stay into the night.
ps. here is a link to the Facebook Event of this party that you can share with anyone you like
http://www.facebook.com/events/228837233853448/ 
Here are some clips from the new films: