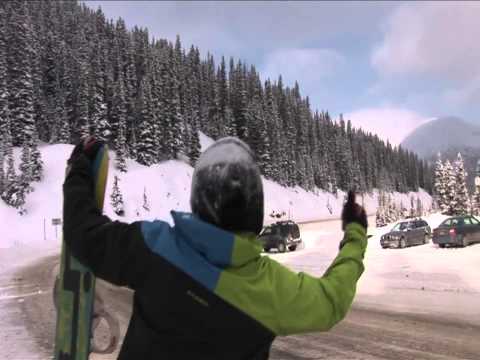 We awoke at the Rick Stetta Ranch Estates farmers corner about 9 AM to 6 inches of fresh snow.
We will go up on Christmas morning December 25, 2012 to some nice new fresh snow. It snowed pretty hard the night before, so we got online to see if US Highway 6 Loveland Pass was open or closed.
Loveland Pass was open so we put on our snowboard gear loaded up for snowboards and headed up to the pass.
The top of Loveland Pass is only about a 20 min. drive from the trailer park.
We parked m Karthik Topol Loveland Pass and fej drove his car down the bottom of the pass  in case we couldn't catch a ride to check.
It took the first-run by myself. There were a few rocks up top. Both the middle in the trees was really nice. About knee to waist deep fresh powder!
I did a few surface slashes and met Ffej a main pick up spot.
From then on we just hitchhiked and took runs together.
Even though the snow was coming crappy this year this day was definitely an exception.
I stopped to take some still pictures of Ffej, and is to throw up a 10 foot surf/spray. It was nice and sunny not much wind. Light and fluffy snow.
It never take us long to catch a ride hitchhiking, for very generous , maybe something to do with Christmas.  I don't think with longer than 3 min. for a ride.
On our 1st run together FFej a nice jump over a tree at the bottom.
Relate Christmas breakfast so we decided to take one last run from the very top of the very bottom of Loveland Pass on the main run that most people know if they have any experience level pass.
FFej dropped in the puncher rocks slammed right into a crevasse.  Ouch!
he did not get hurt just his snowboard.  core shot.
Overall a fun day for the pass.  One guy that picked this up hitchhiking his name was Frank he was a pinball player from Denver.
-Trailer Tom-