Broncos Super Bowl 50 song snowboarding
song by Colorado Duo Danny Oertli and guitarist Dave Beegle. 

http://dannyoertli.com/
" Denver Broncos Super Bowl 50 Mashup Song "link on youtube: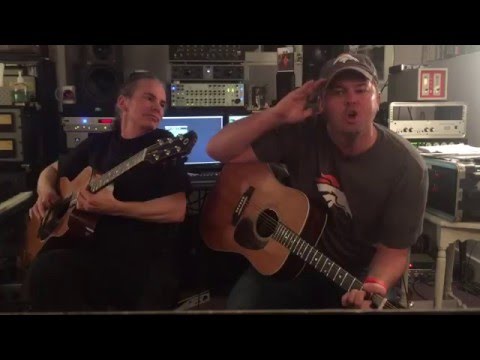 Once upon a time in Denver, there was a football organization that wanted to win the Superbowl.
But last season, a handful of friggin goofs on the Broncos staff did not care if the Broncos won or lost, and their attitude attempted to poison the hearts of Broncos players and fans.
That has now changed my friends.
Great moments are born from great opportunity, and that is what you Bronco fans have this season.
This season for the Broncos will come down to one goal, during one game…
Win the Superbowl.
If the Broncos make it to the play offs 10 times, the other team might cheat to win 9 out of 10 of those times, but not this season.
Cheaters are going to continue to cheat, but this season, the Broncos will defeated those cheaters. This season the Broncos will go all the way.
This season we shut the Panthers down because we can.
The Denver Broncos are the greatest football team in the world. You were born to be a Bronco Fan every single one of you, even if you do not live in Breckenridge or Colorado.
You were meant to see the Broncos win the Superbowl this season. This is your time.
The Panthers?
Their time is done, it's over.
I am sick and tired of hearing about what a great team Carolina is and how great Cam Newton is. Screw em!!!
Even if you are not a Broncos fan you should know that the Broncos are the good guys in this game on Super Bowl Sunday.
You might think…
"I'm a Bronco fan. Win- Lose- or tie, Bronco Fan till i die."
Well, that is not good enough this season. Lose or tie is not an option.
This season. .. The Broncos MUST win the super bowl.
As a Bronco fan at the big game you need to do your part.
When the Broncos are on defense you better be yelling until you have no voice left, and when you have no voice left, you better find another way to make noise.
More Horse. I said MORE HORSE FOR FRIGS SAKE!
GO BRONCOS!!!!!
Thank you for watching the Ffej Knar and Trailer Tom tribute to the Denver Broncos Super Bowl 50.