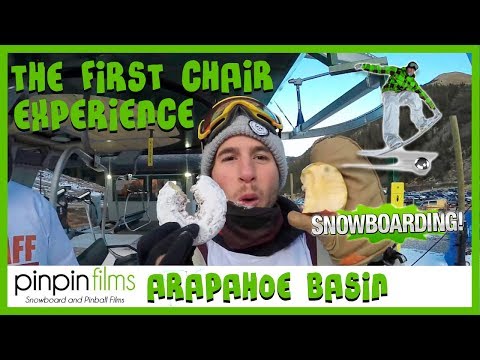 The first chair experience Arapahoe Basin Opening Day 2016-2017 season
1st Chair Arapahoe Basin October 21, 2016 Opening Day of the 2016-2017 season Trailer Tom and Justin SmithGroPro Camera Footage
Mission for 1st chair of the 2016-2017 Snowboard Season
1) October 11, 2016
Trailer Tom and Justin Smith drive to Loveland and Arapahoe Basin and take pictures and gather dates and report to Nate Dogggg.
It is decided that it will be next week before either resort has enough snow to open.
2) Wednesday October 19, 2016
Two days before opening day.
Nate Dogggg finds a Facebook announcement from Arapahoe Basin's COO Alan Henceroth that says ABasin will open for the season on Friday October 21. Nate Dogggg notifies the first char team of the official opening date.
Justin Smith is the first to arrive in line at Arapahoe Basin at 3:30pm. He is joined shortly after by Zach Griffin (aka Z-Griff), and Trailer Tom makes it to Arapahoe Basin around 10:30pm
The first char team experiences a cold first night in line with temperatures dipping to about 20 degrees with a light but steady wind and all snowguns on full blast.
3) Thursday October 20, 2016
One day until opening day.
The 4th member for the 4 man chair lift Seth Hill arrives at Arapahoe Basin parking lot to join the first chair team (aka Nate Dogggg 1st Chair STAFF, aka the 4G Network)
Trailer Tom, Z-Griff, Justin Smith, and Seth Hill , play the Flash pinball machine and snowboard themed Monopoly to pass the time as they await opening day.
Around 11pm about a dozen cars arrive on "the beach" the parking area at the base of the Black Mountain Express lift.
Excitement builds as a snowboard family reunion of sorts takes place when more and more enthusiasts gather around the base of the lift to celebrate the big opening day.
4) Friday October 21, 2016
Opening Day is upon us once again. Arapahoe Basin Celebrates 70 years.
Justin Smith, Zach Griffin (Z-Griff), Seth Hill, and Trailer Tom are the first chair crew for the 4 man lift ride at 9am.
Special thanks to all of the ABasin employees, and awesome friends that were willing to brave the chilly all night sift, and of course Ace Accetturo, Gretchen Pleshaw, Mr Epic, Cesar Hermosillo, Ashley Prill, Patrick O'Sullivan, Mike Gagliardi, Kelly, David Pleshaw
We could not have done it without the hard work and leadership of the king of first chair himself Nate Dogggg for all the pre first chair preparation.
Filmed by:
Justin Smith, Zach Griffin (Z-Griff), Seth Hill, Trailer Tom, and Natalie (aka Nat Dogg)