Nate Dogggg First Chair Loveland Opening Day 2016-2017
 video link: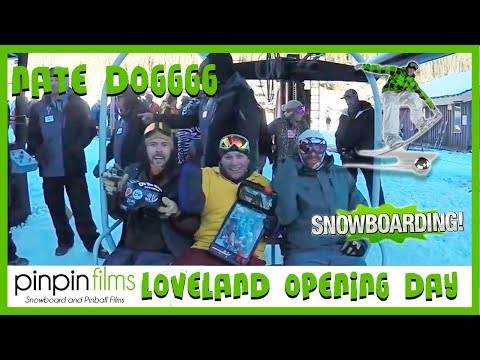 November 1, 2016
Nate Dogggg and Tom drive to Loveland to see how snowmaking is coming along as the forecast is expected to be cooler than most of October. 

Nate and Tom forecast the resort is a week from opening as the snowmakers at Loveland have been making great progress despite the warm temperatures.
November 4, 2016
Loveland announced they will not open the weekend of November 5, 2016 , but will make an opening day announcement on Monday November 7.


November 7, 2016
Loveland announced in a press release that opening day of the 2016-2017 snowboard season will officially be Thursday November 10, 2016


November 9, 2016
Nate Dogggg and Zach Griffin (aka Z-Griff) arrive at the Loveland parking lot at 3pm and officially get in line for 1st chair at 3:15pm. Trailer Tom arrives just before midnight.
Here is a link to some footage Zach shot of the triumphant return of Nate Dogggg's return to first chair and getting in line at Loveland.

We met and became friends with a crew that is now know as the "pajama squad". A group of friends that met at Loveland 3 years ago. Olivia Hall, Michael Kin, and Abby Meyers. The trio had animal themed onesie pajamas that they wore all night and onto the slops. 2nd chair honors go to Olivia Hall, Michael Kin, and Abby Meyers. 



Oct 10, 2016 (Opening Day Loveland)

Another great success for the PinPin crew for 1st chair at opening day at the second resort in North America to officially open for the season as A-Basin won the race as first to open.
Here is a link to some footage Tom shot of the A-Basin Opening Day Nate Dogggg's retirement from 20 consecutive first to open in the Nation streak.

Tom had a mini Star wars pinball machine on the chairlift. 

This year first chair at Loveland was officially held by Nate Dogggg, Z-Griff, and Trailer Tom.

Thanks to all that supported us in our 1st chair efforts!
TT